Healthy Pasta Salad Recipe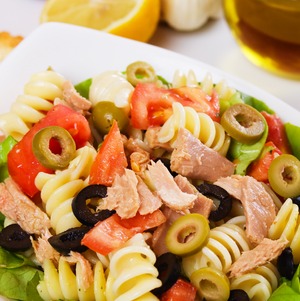 Healthy Pasta Salad Recipe, One of My Healthy Mediterranean Recipes I make for my family.
Try this low fat recipe for a filling meal. Leftovers make a great healthy packed lunch.
Quick Tips
Use wholemeal pasta, it's healthier and will fill you up for longer.
Choose tuna canned in water or olive oil. Drain off the excess.
Vegetarians can omit the tuna.
The roasted red peppers in this healthy pasta salad recipe can be purchased in most supermarkets.
When you have some time to spare why not roast your own vegetables

Ingredients
12 ozs Wholewheat Pasta cooked and drained
1 Large or 3 Small Cans Tuna drained<.li>
2 Spring Onions finely chopped
12 Cherry or smallTomatoes
2 Roasted Red Peppers drained and chopped small
12 Black and Green Olives deseeded and chopped
4 ozs Feta Cheese crumbed - optional
3 tbsp Olive Oil<.li>
Juice of ½ Lemon
1 tbsp parsley finely chopped
Preparation
Place the pasta in a large bowl.
Add 1 tbsp of olive oil and mix well. This stops the pasta from sticking together
Now add the tuna, spring onions, chopped red peppers, olives and tomatoes. Mix well.
In a small bowl, mix together 2 tbsp of olive oil and lemon juice. Add 1 tbsp of chopped parsley. Mix well.
Pour the dressing over the pasta salad and mix.
Sprinkle the crumbed feta over and Enjoy,
Leftover Salad
Place any leftovers into a sealable container and refridgerate. It will keep for 2 days. Why not take a packed lunch to work or school.
More Healthy food recipes...

Healthy Chicken Salad Recipe

Healthy Minestrone Soup

Top of Healthy Pasta Salad Recipe

Back to Healthy Food Home Page