Warming Healthy Soup Recipes
Choose Your Favourite Healthy Soup Recipes
Without a doubt… the best ever soups in the world are homemade. You just can't beat them!
Even Better News…
When you cook them from scratch, you know EXACTLY what you and your family are eating. No E numbers, Preservatives or Chemicials.
Your health will improve DRAMATICALLY.
To get the most health benefits and best flavors from any healthy meal, try to use fresh ingredients.
When you make any of these soups, use any vegetables you of your choice. See what you already have in yoru That goes for leftover meat. I don't waste any food.
Ingredient Tips
Fresh Herbs are Best!
I know it can be difficult to find some fresh herbs… so substitute with dried. I use parsley and coriander in most of the soup recipes.
Stock Cubes
These are the quickest way to add flavour to any soup. Keep to a minimum as they can be high in salt. As alternatives, experiment with fresh herbs and spices. There's no hard and fast rules, just have fun.

When I was young and as soon as winter vegetables were in season, my mum would make our favourite chicken and vegetable soup.
Well… in Ireland we called it broth, because the consistency was almost thick enough to eat with a knife and fork! It was truly a meal in itself.
Sometimes, when money was tight… we would have vegetable broth with fresh Irish new potatoes for dinner. It was a cheap and healthy meal, filling and very tasty. So…
If you're looking for healthy recipes on a budget, these healthy soups won't break the bank. So...
Give these Healthy Soup Recipes a try!

This soup has been handed down through the generations of our family. A very tasty soup made with fresh in season vegetables - carrots, celery, leeks, onion. Chicken drumsticks or thighs, barley, lentils and split peas, fresh parsley and coriander.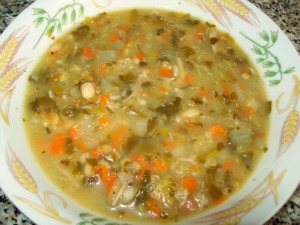 More homemade healthy soups you might like...
My Favourite Lentil Soup



Heart Healthy Tomato Soup Recipe


Healthy Minestrone

Fish Soup Recipe

And theres' more.... to come!
Pop back when you can or subscribe free to my RSS feed to be the first to get updates and new recipes.
In the meantime... Do you have a favourite healthy soup recipe? We would love you to share it with other visitors. All the recipes on the site are free for everyone, so why not join in and add 1,2,3,4 or more.

All you need to do is write the instruction on how to make your recipe in the box below and please add at least 1 and up to 4 photo of your special dish.
Here's to your health!
Share a Healthy Recipe
Do you have a tasty healthy recipe? Share it here!
My Favourite Lentil Soup Recipe

Healthy Irish Vegetable Soup Recipe

Heart Healthy Tomato Soup Recipe

Fish Soup Recipe

Top of Healthy Soup Recipes

Go to Healthy Foods Recipes Home Page