Simple Seafood Paella Recipe
This Seafood Paella Recipe is my healthy version of a world famous mediterranean recipe from Spain.
I love making it because it's a one pan healthy meal. It's so simple to make.
I use white fish, such as cod, haddock or panagus, raw or cooked prawns, peppers, tomatoes, garlic and onions. Very tasty indeed! The best part? it takes less than an hour to make. Any leftover Paella can be chilled in the fridge and eaten the next day. By that time the flavours are much more intense.
Even the kids love it!

Give this homemade Spanish Paella Recipe a try.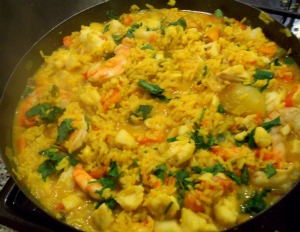 Ingredient Tips
Which Fish?
Use any fish you like and as many types as you fancy. Fresh fish is bes, but frozen is okay too.
Did you know that fish is brain healthy protein?
I normally only used 1 types of white fish and either raw tiger prawns or cooked cocktail size prawns. When fresh mussels are in season I do splash on them to finish the Paella.
Which Rice?
Rissotto rice is normally used for Paella but I prefer Basmati rice. Its less sticky than rissotto rice and some cheaper varieties.
Seafood Paella Recipe
Ingredients

Serves 4-6
1 pound of any white fish cut into small chunks

16 Raw Tiger Prawns or 300grs of cooked prawms
1 large onion,
1 red pepper
4 garlic cloves

2 tomatoes

1 handful of rice per person plus 1 extra for the pot

2 tsp tumeric

2-3 tbsp olive oil
1 handful of parsley or coriander chopped finely

Preparation
Heat the olive oil in a large deep non stick pan or wok, preferably with a glass lid.
I like to see whats happening in the pan without lifting the lid. It also helps to stop all the flavours escaping.

Add the onions and saute until softened.
Mix in the crushed garlic and cook for a few minutes.
Add the red pepper, cook for 2 minutes stirring regularly..
Add the turmeric, stir to coat the vegetables.
Saute for just a minute
Add the rice and a little more olive oil, mix with the vegetables,
Add the chicken stock stir through gently.
Cover the pan and simmer for 15-20 minutes.
The rice will swell up considerably.
Check that the rice is cooked through but not mushy.
Place the white fish on top of the rice.
Cover and simmer for a few minutes
Now place the prawns evenly over the top.
Pop the lid on again and cook for a further 5 minutes until the raw prawns turn pinky orange.
If you're using small cooked prawns just heat them through for a few minutes.
Sprinkle the parsley or coriander over the Paella.
Season with a little salt and freshly ground black pepper.
Serve in warm deep dishes with fresh homemade and healthy garlic bread.
I hope you enjoy my seafood paella recipe.
Can You Freeze Paella?
Thats a very smart question!
People contact me all the time to ask.
Here's the all important answer.
We always have leftover seafood paella. More than likely you will too.
If you want to freeze the leftovers... follow the guide below.
You can freeze paella IF all the fish used in the paella was cooked from raw.

Never refreeze any cooked fish which was previous frozen.

For example..., if you defrosted cooked prawns to make this seafood paella recipe, or any fish for that matter, don't freeze leftovers.

The good news is... cooked Paella can be kept in the fridge for upto 2 days after cooking.

Enjoy!!




Did you know...

Eating a healthy diet can help you look years younger?
what an anti aging diet can do for you
See more delicious Healthy Dinner Recipes
Return to top of this Seafood Paella Recipe
Head on over to Free Family Healthy Recipes Home Page