Healthy Chicken Salad Recipe
Simple healthy chicken salad recipe. In my book, there's nothing easier than putting together a quick healthy salad. And we don't wait til summer to enjoy one
This salad is can be made with poached, grilled or leftover chicken. The salad vegetables can be any type you like or those you may like to try for the first time.
I pile up lots of healthy vegetables and green leaves like spinach, crunchy lettuce, rocket and watercress.
Enjoy a healthy salad for lunch or dinner. Leftovers make a great packed lunch or a healthy snack.
How to make a tasty healthy chicken salad...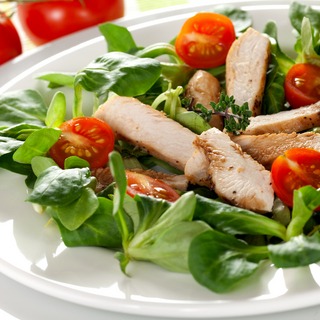 Quick TIps...
Chicken
For this recipe, I like to poach the chicken, its quick and very tasty. But you can grill it or use leftover roast chicken.
Salad Leaves
There are so many types of salad leaves, all shapes, sizes and colours. Experient with different types to make your salads more interesting.
This healthy salad recipe will last for 2 days when kept chilled in the fridge IF you keep the healthy salad dressing separate.
Any salad will keep fresher for longer without any dressing.
If you like, add small potatoes which can either be boiled or oven baked. My family love oven baked potatoes as the flavour is more intense.
Ingredients...
2 chicken breasts
1/2 pint of chicken stock
2 bay leaves
handful of spinach
shredded lettuce
4 ripe tomatoes
2 spring onions
1 sliced beetroot
2 tbsp olive oil
juic of 1/2 a lemon
2 celery stalks finely chopped optional
Small Potatoes boiled or oven baked - optional
Preparation...
Poacheing the Chicken Breasts
Place the chicken breasts in a large shallow pan.
Add enough chicken stock to come half way up the chicken breasts
Add the bay leaves and oregano.
Simmer on a low to medium heat, gentle bubbling is what's needed.
Place all the salad vegetables into a large bowl.
Making the healthy salad dressing
Pour the olive oil, lemon juice and oregano in a small bowl, mixing well.
When the chicken is ready, let it cool a little. Slice thinly and add to the salad vegetables and your done.
Let everyone add their own dressing, so leftovers can be kept crisp and fresh for 2 days in the fridge.
Enjoy Healthy Living and Eating Well!

Other popular healthy meal recipes to try...

Healthy Tuna Recipes

Healthy Grilled Chicken

Tasty Minestrone - Healthy Soup Recipe

Top of Healthy Chicken Salad Recipe

Back to Healthy Lunches

Go to Healthy Eating Recipes Home Page