Easy Cheap Dinner Recipes...
Homemade and healthy too.
Cheap dinner recipes.., free homemade healthy recipes from my family to yours'.
Choose from tasty cheap casseroles, simple paella, lasagna, famous shepherds pie recipe, enchiladas, chilli, healthy burgers and many more healthy family meals.
Just choose the cheap healthy meal you fancy trying from the list of all homemade healthy cheap meals.
Cheap Healthy Casserole with Spicy Sausage
Simple homemade tasty casserole. A cheap mixed frozen vegetable recipe with tinned tomatoes, white beans. I've added some chicken drumsticks and spicy sausage for extra flavor. Suitable as a healthy lunch or dinner. Great with homemade garlic bread.
Very quick to make and will serve 4-6 people. And you can freeze any leftover casserole. try this cheap healthy casserole
Fresh Healthy Chicken Enchaladas
Really easy enchilada recipes with a very tasty fresh tomato sauce recipe. Tortilla wraps with stir fry vegetables and strips of garlic chicken and spice.Your kids will love having dinner wrapped in a parcel. Cheap to make and don't need much filling, which makes this a cheap healthy dinner recipe. Leftover cooked filling can be frozen. Choose from chicken enchiladas or vegetable enchilada recipe

Stuffed Chicken Breast Recipe...
handed down from My Irish Mum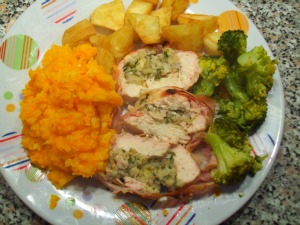 Very satisfying stuffed chicken breast recipe. Filled with my mum's irish stuffing of breadcrumbs, onion, sausage meat and parsley. Rolled up and wrapped in bacon. The result? Intense flavour, filling and a little goes a long way. Supper as a cheap dinner for 4 using only two chicken breasts. View this stuffed boneless chicken breast recipe

Healthy Fish Recipes - Seafood Spanish Paella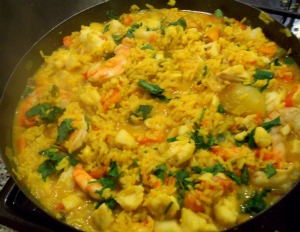 Simple paella recipe. Many people think paella is a difficult dish to make. Let me show you how easy it is.
My homemade version is made with fresh vegetables, rice white fish and a few prawns. You can use frozen vegetables and any type of fish you fancy. It will serve 4-6 people and any leftover can be frozen if you use raw fish to make it. Try simple paella recipe

Fresh Fish Soup Recipe... come casserole!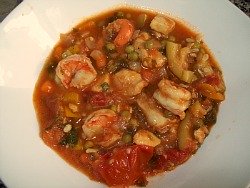 This heart healthy fish recipe is more like a stew than a soup.
I like soup to be chunky with lots of vegetables. You can use frozen veg here too. Again, use any type of fish you may have handy. I have added some prawns but these are optional. There are no hard and fast rules about ingredients, your the boss. fish soup recipes
Homemade Mince Beef Burgers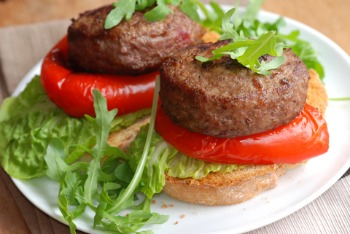 Healthy Burgers
This one is a really cheap dinner recipe. I've been making healthy burgers for years. They are so quick and easy to make and really yummy, if I do se myself.
Made with lean mince beef, onion, garlic, breadcrumbs, parsley or coriander. Add a spoonful of mango chutney for a delicious extra tangy taste. A super healthy recipe for kids. You may even have leftovers, I did say maybe! Try these really easy healthy burgers.

There are loads more homemade cheap dinne recipes and other healthy meals and snacks here on our healthy recipies site for you to try on your family.

We love to make our own versions of traditional, popular and dishes from around the world which we have sampled on our travels over the years.

I hope you pop back occassionally to see what's new. You can subscribe free to our Blog to get the latest updates using the RSS buttom on the left.

Thanks for stopping by.

Top of Cheap Dinner Recipes

Go to Free Family Healthy Recipe Home Page