Healthy Oven Roasted Vegetables
Easy Oven Roasted Vegetables Recipe. You can oven roast almost any type of vegetable.
I like to roast different coloured peppers, whole onions, fresh tomatoes, beetroots and potatoes. The flavors are so intense, your family will love them.
Use any vegetables which are in season, they are sooooo delicious. Keep them whole, all the flavours are sealed inside.
To save time and money, roast vegetables in large batches. They will keep for several days in the fridge.
Add them to stews, curry, salads, sandwiches. They are a great time saver.
I love roasted vegetable and feta cheese in a pitta bread or fresh baguette
Fresh and Healthy Oven Roasted Vegetables...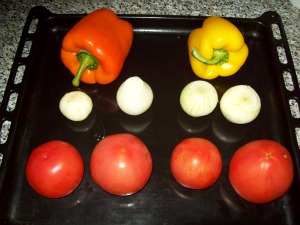 Quick Tips
Have you every tried...
Roasted Whole Beetroots
If you haven't, I can highly recommend them. The taste is incredible.
Roast Whole Garlic bulbs
These are great for adding to any meal, especially curries and lentil dishes such as Indian Takka Dahl. Yummy!

Ingredients
Keep all the vegetables whole.
I Red and Yellow or Orange and Green Pepper - Your choice
4 Small white onions
4 medium tomatoes
4 Large mushrooms
4 Whole Garlic Bulbs
2-3 tbsp Olive Oil

Preparation
Heat your oven to 175c
Wash and dry the whole peppers and tomatoes
Clean the Mushrooms with kitchen towel
Peel the outer skin from the onions
Also peel any loose outer skin from the garlic bulbs
Place all the vegetables on a large baking tray.
Pour olive oil over the vegetables. Just enough to coat them
Roll the vegetables in the oil making sure they are all coated.
Pop the tray on the middle shelf of the oven
Bake until the vegetables are cooked through, turn a few times to ensure they are evenly cooked.
Remove the peppers, tomatoes and mushrooms when they are ready.

Put in a warm dish and cover. Let any firmer vegetables finish cooking.

Cooking time will vary but is usually around 45 minutes.

I hope you enjoy these oven roasted vegetables. Experimenting with different vegetables is great.

If you need more ideas for cooking healthy family food, let me recommend these books below which are available online...
Other recipes for healthy food you may like...


Try My Homemade Ratatoille Recipe

Healthy Grilled Chicken

Homemade Healthy Burgers

Top of Healthy Oven Roasted Vegetables

Healthy Dinner Recipes

Go to Healthy Family Recipes Home Page