Healthy Minestrone Soup Recipe
Recipes for Healthy Food
Heart warming minestrone soup recipe, so tasty, filling, colourful and a healthy Italian soup.
Packed full of fresh vegetables which offer antioxidants and anti cancer properties.
This world famous minestrone soup is so nutritious. Minestrone is full of health boosting vegetables.
Made with tomatoes, carrots, celery, garlic, onions, green beans and more healthy boosting ingredients.
How to make healthy minestrone soup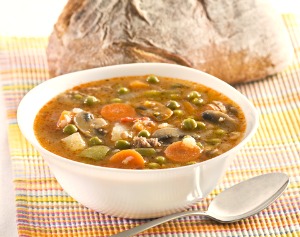 Ingredient Tips
Vegetables
Cut all the vegetables into the same size of cubes. They will all be cooked through evenly and be ready at the same time.
Pasta
Wholewheat pasta is much healthier than white.
Did you know?
Wholewheat pasta along with other wholewhear and wholegrain foods can help lower your risk of diabetes and heart disease.
Ingredients for Healthy Minestrone Soup Recipe
Serves 6 Plus
2 tbsp olive oil
1 medium onion finely chopped
2-3 garlic cloves crushed
2 medium potatoes peeled and cut into small cubes
2 celery sticks finely chopped
2 courgettes cut into small cubes
2 medium carrots peeled and cubed
4-5 vine ripe tomatoes chopped small
16 green beans cut in 1in slices
100gr macaroni pasta , preferably whotewheat
1 400gr tin red kidney beans drain and rinsed well
1 small bunch of fresh basil
1-1 ½ litres of vegetable stock or water
2 bay leaves
parmesan cheese

Preparation
Heat the olive oil in a large pot.
Sauté the onion for 2 minutes.
Add the garlic and sitr fry gently for another minute.
Add all the cubed vegetables.
Sitr and sauté gently for 5 minute, making sure the vegetables are coated in oil.
Mix in the chopped tomatoes, stir and cook for a few minutes.
Add the stock or water.
Partly cover and gently simmer for 20 minutes.
Add the kidney beans and pasta.
Continue to simmer for 15 minutes.

Add the chopped basil leaves. Stir and simmer for 2 minutes, so the flavours have time to combine.

Season a little if necessary.

Freshly ground black pepper is much tastier and better for you than salt

Serve in warm bowls with a sprinkle of parmesan and warm crusty brown rolls.

Delicious!







Want more Ideas for Cheap Recipes?
Here's one of my quick dinner recipes which is cheap and very filling.
Turn minetrone soup into a casserole.
Just add leftover cooked or poached chicken to your minestrone soup for a quick healthy meal.
Or…
Stir fry slices of chicken breast and add it to this chunky soup and you've got a cheap healthy casserole recipe.

Did you know that you can freeze leftover soup?
Use plastic takeawy containers to freeze your homemade soup in portion sizes.
More heart healthy cooking recipes...
Fresh Healthy Tomato Soup Recipe

Healthy Seafood Paella Recipe

View a handy list of healthy foods

Top of Heart Healthy Minestrone Soup Recipe

Back to Healthy Soup Recipes

Go to Healthy Recipes Home Page