Homemade Crispy Potato Wedges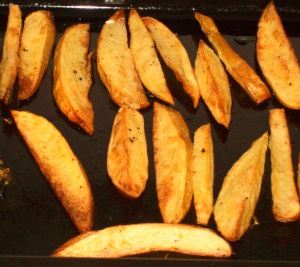 The Best Healthy Potato Wedges, Homemade Oven Baked Healthy Potatoes. Crispy Skins on the outside, smooth and creamy inside, Much Tastier than Processed Chips. Try my yummy family healthy recipes
Oven Baked Potatoes are a super alternative to greasy chips. We love to have them as a side dish to so many different healthy meals. Even with a healthy curry!
Try them for yourself. I'm sure your family will really enjoy them. Its a great healthy kids recipe.
Quick Tips
Potatoes
Most suitable potatoes are the waxy. Excellent varieties are…
Accord
Carlingford
Romano

Herbs and Spices
Add different flavors to your wedges before cooking.
Some choices for you to try are...
Chilli Powder
Mixed Chilli Flakes
Freshly Crushed Garlic or Garlic Powder
Curry Powder

Follow your tastebuds!
Ingredients

Serves 4
3-4 Medium Potatoes
4 tbsp Olive Oil
Preparation
Preheat your oven to 175c for fan oven.
Wash and dry the potatoes, leaving the skin on.
Cut in half length wise.
Now cut each half at an angle to form chunky chip shapes with a
thicker skin end and a thin inner edge.
Pat dry with kitchen towel
Place on a baking tray and pour olive oil over.
I use a black enamel baking tray which has last years. Its easy to clean and it still looks new.

With clean hands, turn the wedges to coat them with oil.

Add any flavors at this point.

If using crushed garlic, rub it onto the potato wedges.

Spread the sliced on the baking tray.

Pop the tray in the oven and cook for 30-45 minutes turning occasionally until crisp and lightly browned.
Serving Suggestions
You can have potato wedges with almost anything. Here are just a few suggestions... Let your imagination run riot!!!
Other popular recipes for healthy eating...
Healthy Chilli, Easy Lasagne or Healthy Irish Meat Loaf
Return to top of Healthy Potato Wedges
Low cost versatile oven roasted vegetables
My best vegetable recipe recommendation... healthy vegetable curry recipe
Visit Free Healthy Recipes Home Page