Healthy Tomato Soup Recipes
Tasty Homemade Tomato Soup Recipes. Heart healthy and heart warming.
Made with fresh in season vegetables and herbs. The key to very tasty soups.
Fast and easy recipes for you to make in the comfort of your own kitchen.
My family's favourite and I'm sure your family will enjoy it too!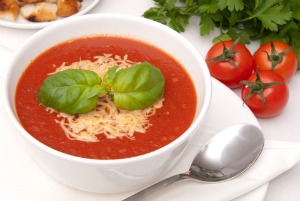 Quick Tips
Tomatoes
The best tomatoes to use are fresh, in season, vine tomatoes or Italian plum tomatoes. They are rich deep red in colour and not watery when you slice them open.
Trust me the flavor is much greater than unripe forced tomatoes.
Fresh is Best for Your Health!

Healthy Tomato Soup Recipe
Ingredients
Serves 4
6-8 vine or Italian plum tomatoes chopped
2 medium onions finely chopped
2 bay leaves
4-5 garlic cloves crushed
1 litre Chicken or Vegetable Stock
2 tbsp Tomato Paste
2 tbsp Olive Oil
2 tbsp fresh basil and parsley
Sprinkle of Parmesan for Garnish

Preparation
In a large pot, heat the olive oil and sauté the chopped onion for a few minutes.
Add the crushed garlic and cook for 2 minutes.
Add the chopped tomatoes and continue to sauté for 5 minutes.
Add the bay leaves.
Pour in the stock, turn up the heat and bring to boiling point.
Now lower the heat, partly cover the pot and simmer gently for 20 minutes.
Mix in the herbs, simmer for 2 minutes.
Remove the bay leaves before blending.
Puree with a hand held liquidizer or gradually put the soup through a worktop blender in batches.
Reheat in a pot.
Serve in warm dishes with crusty wholemeal rolls or homemade garlic bread.
Prefer a really smooth tomato soup?
Here's a quick and easy way to get a creamy smooth soup.

After liquidizing, press the soup gradually through a sieve. You should only have the tomato skins left behind in the sieve.

Pour into warm bowls with a sprinkle of parmesan if you like it.

Serve, Bon Appetite!



I hope you and your family like my heart healthy tomato soup.
If you are looking for more great ideas for heatlhy meals there are some great inexpensive books available online. Here are my top 3 recommendations...
Other healthy family recipes you may like to try...

Low fat Healthy Fish Soup Recipe

My mum's Tasty Irish Lentil Soup Recipe

Irish Vegetable Soup Recipe

Top of Healthy Tomato Soup Recipes

Back to Healthy Soup Recipes

Back to Healthy Recipe Home Page