Vibrant Tandoori Chicken
Healthy Chicken Breast Recipe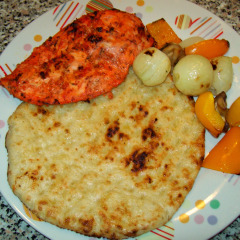 Tickle your tastbuds with sensational Tandoori Chicken. Cooked on the bbq or grill.
Use Chicken Breasts or thighs, your choice.
In Summer... my husband becomes head bbq chef!
Why is That?
Marination Time
Marinate for at least 30 minutes, 1 hour is best. If you leave it overnight in the refridgerator, the flavour is AMAZING!


Tandoori Chicken Recipe
Serves 4
Tandoori Ingredients
4 Chicken Breasts or 8 Chicken Thighs
1 Fresh Lemon
Ground Sea Salt
Low fat Greek Yoghurt – or other thick low fat yoghurt
Greek is Best!
2 Garlic Cloves crushed
Tandoori Powder – start with 2 teaspoons, more if you like it spicy!


Preparation
Remove the skin and excess fat from the chicken.
Squeeze fresh lemon juice over both sides of the thighs
Grind a light sprinkling of sea salt over the chicken – not to much
Leave to marinate for 5 minutes.
Meanwhile make the tandoori coating
In a large bowl, add the 300g of greek yogurt, crushed garlic cloves and tandoori spice.
Mix until thoroughly combined.
Add the chicken pieces a few at a time. Thoroughly coat with the yogurt mixture
Cover the bowl with a plate or foil.
Place in the fridge to marinate for at least 1 hour.
Meanwhile, prepare the vegetables...

Grilled Healthy Vegetable Recipes
This bbq grilled vegetables are a really delicious accompliment to tandoori chicken.
Use your favourite vegetables.
The best method of cooking them is on steel kebab skewers.
We like a combination of onions, peppers and mushrooms.
Recipe for BBQ Grilled Vegetables
Ingredients
1 Large Onion or 8-10 Shallot Size Onions
1 Medium Red Pepper <.li>
1 Medium Yellow Pepper
8 -10 Small Mushrooms
Coating
2-3 Tablespoons of Light Olive Oil<.li>
2 Garlic Cloves<.li>
Preparation
Clean and Cut the onions and peppers into 1 inch chunks Wipe the mushrooms clean. If you're using larger mushrooms cut in half vertically
Now slide the vegetables onto the skewers, alternating pepper, onion and mushrooms
Brush olive oil coating over the vegetable kebabs
Cook for approximately 10-15 minutes on the bbq. Turn frequently so they don't burn.



Cooking on the BBQ
Heat the bbq and lightly brush a little oil on the grill to stop the tandoori chicken from sticking.
Place all the chicken pieces on the bbq.
Cook on one side for a 5 minutes before turning.
If you turn the chicken too much the coating will just stick to the grill.
Cook until the meat is firm and brown on both sides.
When I use chicken thighs, I always test if it is cooked right through to the bone by cutting one of the thighs along the bone. If it's still pink, returning it to the grill.
The meat should easily pull away from the bone when fully cooked.
Enjoy!
Here are some more recipes for healthy eating...


Prawn Curry Recipe

Vegetable Curry Recipe

Ratatouille goes well with Tandoor

Top of Tandoori Chicken Recipe

Back to Healthy Dinner Recipes

Go to Free Recipies Home Page

---
Custom Search
---