Family Healthy Tuna Salad Recipe
Healthy Fish Recipes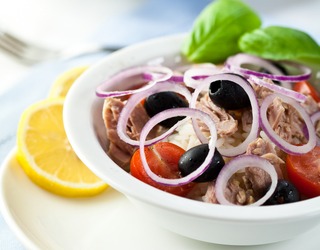 Easy Healthy Tuna Salad Recipe
Tinned tuna is a very convenient and versatile healthy fish. You can make so many healthy snacks and meals with it. Like a healthy salad, sandwich or a quick healthy dinner.
So when you are looking for cheap healthy recipes, go for tuna. It has so many health benefits which include helping you lose weight. And…
If you're looking for heart healthy diet recipes, this salad is an ideal choice.
All my recipes can help keep your heart healthy too.

Healthy Tuna Salad Recipe
Quick Tips... Choose tuna canned in water or olive oil.
Use Cherry tomatoes. Why?
Because if you plan on having leftovers the next day for lunch at work or home, cherry tomatoes won't make the salad soggy.
If using large tomatoes, slice just before serving.
Another great tip is to keep the salad separate from any bread you may use to make a sandwich for lunch. That way you can just pop the salad into the bread just before you want to eat it.
Ingredients
Serves 4
1 Large tin Tuna canned in water or olive oil drained
16 Cherry Tomatoes
2-4 Spring Onions - Scallions finely chopped
1-2 Celery Sticks finely sliced
1 Red Pepper diced
1 Red Onion sliced - optional
4 ozs Greek Feta Cheese crumbed optional
8 black olives

Preparation
1. Place the drained tuna into a large bowl Break up into small chunks with a fork.
2. Add all the salad vegetables and combine with the tuna.
Healthy Salad Dressing Recipes
4 tblsp Extra Virgin Olive Oil
Juice of 1/2 a lemon or 3 tbsps balsamic vinegar
1 tblsp parsley finely chopped - flat leaf is best

Mix all the dressing ingredients together in a small bowl and let everyone dress their own salad.
That way, refridgerated leftover salad will stay fresh and crisp for 2 days. Just cover with cling film beforehand.

Serving Suggestions
Serve with warm pita pockets, fresh wholemeal french stick or one of my special warm oven baked jacket potatoes
Other healthy recipes you may like...

Healthy Chicken Salad Recipe

Fish Soup Recipe

Healthy Seafood Paella Recipe

Top of Healthy Tuna Salad Recipe

Return to Healthy Lunch Recipes

Back to Free Healthy Recipes Home Page