Salsa Dip Recipe
Healthy Dip Recipes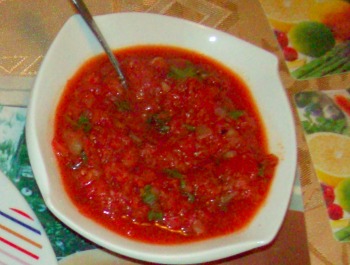 Heart Healthy Salsa Dip Recipe
The word salsa means sauce.
A Mexican dip served as a side dish to many mexican or spanish meals. Very enjoyable as a snack with sliced raw vegetables, a topping for fajitas and tacos.
Created with fresh pureed tomatoes,
Cheaper to make than buy, no artificial ingredients or preservatives. Fresh Salsa is full of health benefits too.
Very quick and simple, it only takes a few minutes to make.
The are many variations, this is one of many healthy dip recipes that is a great appetizer or side dish to dip your vegetables in, top a crispy jacket potato or... dip some healthy potato wedges



Ingredient Tips
Tomatoes
The best tomatoes to use for any tomato sauce, dip, soup, casserole or stew are italian plum tomatoes.
If you can find them in your local farmers market or supermarket, buy a few and make this salsa dip recipe. Italian tomatoes add an intense flavour. Just make sure they are ripe and very red.
Chillies
Green chillies are not as hot as red. Depending on how hot and spicy you like your food, adjust the recommended amount of chillies in this recipe.

Ingredients for Salsa Dip Recipe
Serves 4
4-6 fresh fully ripe tomatoes
2 garlic cloves
1 medium onion or 2 spring onions
Handful of fresh coriander
1 tbsp finely chopped parsley

Preparing the Salsa Dip Recipe
Using a blender
Finely chop the tomatoes, onion, coriander and parsley.
Slit the chilli length ways and scrape the seeds out with a knife and chop finely. Use a piece of kitchen towel to hold the chilli while cutting it, you won't get the hot sap on your fingers. If you rub your eyes with chilli sap on your fingers it will burn.
Add the chopped tomatoes to the blender and pulse for a few seconds.
Crush the garlic into the blender.
Add the onion and chilli, pulse again for 10 seconds
Now add the coriander and parsley.
Pulse until all the ingredients are well mixed together.
By hand
Finely chop all the ingredients except the garlic which needs to be crushed. Rremember to deseed the chilli before chopping.
Mix well in a bowl, cover and put in the fridge to let the flavours mix together.

Serving suggestions...
You can serve Salsa Dip with so many healthy meals and snacks.
Here are just a few homemade healthy family recipes for you to choose from...

Crispy Jacket Potato Recipe

Oven Baked Potato Wedges

Indian Tandoori Chicken

Healthy Burgers

Grilled Chicken Recipe

Top of Salsa Dip Recipe

Go to Free Healthy Recipes Home Page

---
Custom Search
---