Homemade Healthy Burgers
Homemade healthy burgers are so easy and quick to make. Its one of those recipes that the kids can help you make.
I don;t know about you, but I worry about what store bought or fast food outlets put in their burgers.
At least when you make your own are home you know exactly whats in them.
These healthy burgers are full of intense flavors. Made with fresh low fat mince beef, onion, garlic and herbs.
One of the best healthy food recipes for kids to make and enjoy. More than likely, they will want to make them again and again.
Learn how to make them here…

How to make healthy burgers...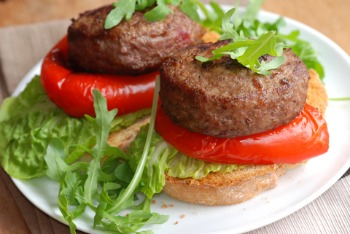 Ingredient TIps...
Meat
I normally make healthy burgers with lean mince beef. Ocassionally, I use minced lamb, but it is a more fatty meat. Chicken, turkey or pork also make tasty burgers. Experiment with different meats.
Herbs and Spices
Crushed fresh garlic adds depth to the flavour of the burgers. But garlic powder is fine.
Fresh flat leaf parsley and coriander make a great combination to add to burgers.

Ingredients...
Serves 4
1 Pound of Lean Mince Beef
2-3 Slices of Whole meal Bread for making Breadcrumbs
1 Medium Onion finely chopped
1-2 Crushed Garlic Cloves - optional
2-4 Tablespoons of finely chopped Fresh Flat Leaf Parsley & Coriander 
Preparation...
Cut the bread into cubes.
Place in a food processor and process to make fine breadcrumbs
Remove the breadcrumbs a place in a large bowl.
Now chop the onion into small pieces.
Place in the processor and pulse to finely chop the onion.
put the crushed garlic, chopped parsley and coriander into the processor.
Pulse the food processor to finely chopp the herbs and combine.
Pop into the breadcrumbs and mix well
Now place the minced beef Into the bowl.

Now for the fun part!
With clean hands, combine all the ingredients until evenly mixed together
When all the ingredient are mixed together, press the mixture down evenly in the bowl.
Now cut the mixture down the middle, north to south and east to west. You should have 4 even quarters now.
Remove one quarter and cut into 2 pieces.
Now you can make nice evenly sized burgers.
Quick tip...
Rub a little olive oil on your hands to stop the meat mixture sticking to your hands.
Roll one piece of the mixture in your hands to make a ball, then press down to make a circle about 1/2 inch thick.
Repeat the process until all the mixture has been pressed into a burger shape.
Place on a kitchen board or plate and place in the fridge for about 20-30 mintues to firm.
Cooking guidlines...
You can cook the healthy burgers on a bbq, grill or fry in a little olive oil.
Using your chosen cooking method, cook the burgers until brown on both sides and feel firm in the centre.
You can also test by piercing the centre with a skewer, the liquid should be clear.

Serving Suggestions...
Try these Fresh and Healthy Side Dishes...


Crispy Potato Wedges

Homemade Coleslaw

Warm Toasted Rolls & Salad

Fresh Homemade Salsa and Pita Bread Pockets

BBQ Grilled Pitta Bread, Greek Tzatziki Dip

Enjoy!

More recipes for healthy food...

Healthy Chili Recipes

Top of Healthy Burgers

Back to Healthy Dinner Recipes

Healthy Family Recipes Home Page