Homemade Healthy Coleslaw Recipe
Truly Healthy Coleslaw Recipe, your whole family will love. Its one of my excellent healthy side dishes to have with so many healthy family recipes.
Fresh homemade cole slaw is so simple to make and very cheap too. I love to nibble it straight from the fridge. Naughty but nice!
Store bought coleslaw can be very heavily coated with mayonnaise which sticks to the arteries! This recipe uses much less.
Follow my simple healthy coleslaw recipe, one step at a time.
How to make healthy coleslaw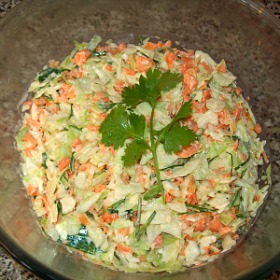 Quick Tips
You can make this cole slaw in about 5 minutes.
Vegetables
There are many different coleslaw recipes out there. In general, the main ingredients are white cabbage and carrots.
I like to add a little white, red or spring onions and maybe red or green pepper.
Whatever is in the fridge at the time. You can be as adventurous as you like. Go with your tastebuds!
A few other healthy choices to add…
Sweetcorn, beansprouts or red cabbage, peppers and spring onions.

The coating I make includes a small amount of light mayonaisse.
Look for lighter versions of mayonnaise, which have very few E numbers, additives and preservatives.
Check the food labels.
You will be amazed at what some manufacturers put in our food!
2 ways to grate the vegetables...
The quickest way to make coleslaw is in a food processor which has a shredding attachment.
If you don't have a food processor, you can use a hand held grater.
It will take a few minutes longer to prepare the vegetables, but the end result is exactly the same.
Just watch your fingers... Ouch!
Remember to cut the celery and cabbage into small pieces using a knife.
Ingredients for Healthy Coleslaw Recipe...
Ingredients
Serves 4-6
2 medium carrots
4 slices of light green cabbage
1-2 celery sticks
1 small onion
2 tbsp light mayonnaise
juice of ½ lemon
2 tbsp extra virgin olive oil

Preparing Cole Slaw...
Peel and rinse the carrots.
Cut 4 slices of cabbage, like you would slice a loaf of bread.
Rinse thoroughly and pat dry with kitchen towel.
Peel the onion and cut in half.
Note If you are adding celery, it's best to finely chop it by hand because celery doesn't shred well in a food processor or a handheld shredder.
Using a blender with grating attachment, place the carrots in the shoot and push down with the shredder tool.
Thinly slice the cabbage by hand.
Shred any other vegetables you wish to add.
Add all the cut and shredded vegetables to a large bowl.
Coleslaw Dressing
Add the light mayonnaise, lemon juice and olive oil to the vegetables and mix well to coat.
Your healthy coleslaw is ready to serve.
Or…

If you like it chilled, cover with cling film, a plate or foil and pop it into the fridge for 20 minutes.

Freshly made coleslaw will last up to 3 days in the fridge.

That said... there isn't much left in my fridge by the second day!

It is sooooo much better for you than store bought and a lot healthier too!

Serving Suggestions...
Coleslaw goes well with so many healthy meals and snack recipes.
Here are just a few ideas...
Homemade Healthy Burgers

Healthy Chicken Salad

Tuna Cucumber and Scallion Sandwich

Crispy Oven Baked Potato Wedges

More great healthy meal ideas...

Why not turn leftover coleslaw into a healthy meal by adding some...

Sliced boiled eggs
Cooked Prawns
Sliced Gammon Ham
Tinned Tuna, Salmon or Sardines
Turkey Breast Slices







I'm sure you will have your own ideas too. Enjoy healthy cooking and eating well!
You may also like these healthy family recipes...

Try Homemade Healthy Burgers Recipe

Grilled Chicken Recipe

List of Healthy Foods

Top of Healthy Coleslaw Recipe

Back to Healthy Family Recipes Home Page