Cheap Healthy Meal
Chuncky Homemade Stew
Quick Easy Cheap Healthy Meal.
This is a versatile healthy cheap recipe which can be either a casserole, stew or healthy chunky soup if you like. The only differnce is how much stock you use.
I'll call it a chunky stew because I'm Irish!!
This quick and easy meal is made with frozen vegetables, which are just as good for us as fresh, tinned tomatoes, onions, garlic, beans, cheap chicken drumsticks and spicy sausage.
Packed full of goodness and super tasty, if I do say so myself! Well I did make it! And...
There's lots more free homemade family recipes for healthy food here that are cheap, if you don't fancy this cheap healthy meal.
Okay, enough chatter...
Making your cheap healthy meal...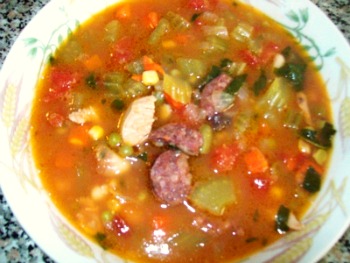 Ingredient Tips...
Frozen Vegetables
The new technology for freezing food is much better than it use to be. So vegetables are blast frozen individually to protect the nutruients. So when we cook them, they taste just like fresh and they are usually cheaper than fresh these days.
For this cheap healthy meal recipe I have used mixed veg with peas, carrots, sweetcorn and french beans which are cut in small pieces.
I don't recommend using broccoli or cauliflower. Why? Because the sulphur in them is very smelly when leftovers are fridged overnight. You will think the meal has turned bad and you won't want to eat it. Trust me!!
Chicken
Drumsticks are the cheapest part of the chicken. It is usually even cheaper if you buy them with the skin on.
It only takes a minute to cut the skin off and its healthier too.
White beans
I have used tinned white beans for this casserole come stew come soup.
If you don't like beans or cannot find the white variety, you can use small pasta, egg noddles, rice or cubed potatoes.
A few handfuls of pasta or egg noodles or a few potatoes is enough. Whats great is they with suck up all the delicous flavours.
Just experiment with different ingredients.
This recipe includes spicy sausage which has 75% pork and very few health damaging additives.
You may not be able to find a similar spicy sausage that I have used for this recipe.
When your looking for something similar, make sure the meat content is the highest percentage ingredient listed on the food label. And... that there are very few artificial ingredients which you can't even pronounce let alone know what they are.
Why eat something when you don't know what it is!!

Ingredients...
This cheap healthy meal recipe makes enough for 6 big servings.
2 tbsp olive oil
1 large onion
4 garlic cloves crushed
4-6 chicken drumsticks depending on size
3 Celery – optional, cut into a similar size to the frozen vegetables
400 gr of mixed frozen vegetables
400 gr tin of chopped tinned tomatoes
400 gr tin of white beans
1 and half litres of chicken stock

Preparation...
Heat the olive oil in a large pot on a low heat
Finely chop the onion
Add to the pot and stir to coat with oil
Crush the garlic into the pot and mix again
Pop the lid on and simmer on a low heat for a few minutes
Stir occasionally.
If the onions and garlic start to stick, add a little more olive oil
In the meantime skin and fat from the chicken drumsticks.
When the onions become soft and clear add the chicken drumsticks.
Stir to coat with the mixture.
Pop the lid on and simmer on low heat.
Turn the drumsticks a few times to cook the outside
Make up the chicken stock
Pour into the pot
Mix well.
Bring to the boil then lower the heat again to a low simmer
Cook until the chicken meat starts to come away from the bones.
Remove the chicken and put it on a place. Cover and put to one side.
The next step is to put the finely chopped celery and frozen mixed vegetables into the pot.
Stir and cover.
Simmer until the celery is almost cooked but still very slightly crunchy.
Add the sliced sausage, stir and simmer covered for 10 minutes.
Meanwhile take all the meat off the chicken drumsticks and cut into similar sized pieces
Drop the chicken into the pot, mix and simmer for 5 minutes.
Add the tinned tomatoes, mix cover and for 10 minutes to let all the lovely flavours come together.
That's the secret to great healthy food!!
Its truly worth waiting a few extra minutes to get a great tasting meal.
Serving Suggestions..
Serve in warm dishes and sprinkle with a little fresh parmesan.

Dip some nice crusty bread in it too!


Serve with mash or boiled potatoes

Rice

Pasta

Lots of fresh vegetables on the side.






I really hope you enjoy this cheap healthy meal.
If you do, please let your friends and family know about it too.
You can share it on facebook too by clicking on the like button.
Thank you.

Check out other visitors favourite pages...

Cheap Irish Boneless Chicken Breast Recipe

Homemade Healthy Pizza Recipe

Super Simple Seafood Paella Recipe

Back to Healthy Dinner Recipes

Top of Cheap Healthy Meal Recipe

Go to Free Healthy Recipes Home Page