Healthy Vegetable Curry Recipe
This vegetable curry recipe is one of my husbands' Indian curry recipes made with fresh vegetables, a few frozen peas and only 5 indian curry spices.
It is very quick, easy and really tasty. It is also an indian vegetarian recipe.
For this particular vegetable curry, he used, fresh potatoes, sweet potatoes, carrots, courgettes and frozen peas. Experiment with different vegetables, its all part of the fun!
Give it go!
---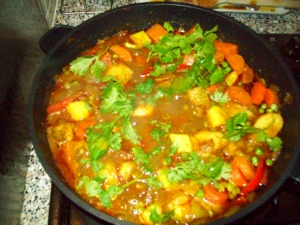 ---
Ingredient Tips
Vegetables
Use any type of vegetables you like. We like potatoes, carrots, sweet potatoes and tomatoes But you use anything you like. Fresh in season are best.
Frozen Vegetables
There are so many great frozen vegetable mixes these days. And because the freezing process is a rapid one, all the fresh taste is sealed in. The veg are individually frozen. No more mush veg all stuck together. Yuck!

You can steam the root vegetables, not the peas, until they are about half cooked if you wish. Rinse in cold water and drain. We tend to just chuck all the root vegetables like carrots, potatoes in the pot and add the frozen peas close to the end of cooking.

Ingredients

Curry Spices
1 tbsp Cumin
2 tbsp Coriander
¾ tsp Chillies
½ tbsp Turmeric
¾ tsp mustard seeds - optional
Handful Fresh coriander, rinsed, dried and chopped

Vegetables

2 Onions chopped finely
1 inch of Ginger grated
3 or 4 cloves of Garlic finely chopped
1 large Red pepper cut into strips
1 large tomato cut into wedges

1 ½ pints of vegetable stock
3 tbsp vegetable oil



Preparation...
Add 3 tbsp of oil to a large pan and heat.
If you are using the mustard seed add when the oil is hot and stir until they "pop".
Lower the heat and add the onions, ginger and garlic cook until soft, do not burn as this will make your curry bitter.
Add the herbs and stir taking care that the mix does not stick, if it does add a little stock.
Allow the mix to simmer for 5 minutes.
Add ½ the stock, cover and simmer for 10 minutes.
Add the pepper and tomatoes and simmer for 10 minutes.
Add the rest of the stock.
Add all the vegetables except the peas and cook for 10 minutes

Add the frozen peas and mix into the vegetable curry.
After 5 minutes check that the vegetables are ready.
Sprinkle the fresh coriander over the curry
Serving Suggestions
Boiled or streamed rice - basmati is best, nan bread, chopped onion and coriander mixed together. If you want a change from rice why not try my crispy potoato wedges
Can you freeze leftover vegetable curry?
You sure can!

Place the leftovers into a resealable freezer bag. What I do is gently flatten the curry out in the bag - after sealing the bag it of course!!

It will defrost quicker and you won't have any big frozen lumps to deal with.

You can also use a plastic take away container with a tight fitting lid.

We keep a stock of these and reuse for freezing many leftovers.






I really hope you enjoy my husbands' homemade healthy vegetable curry recipe.
Other visitors also liked...
healthy vegetable lasagna recipe
Visit our healthy recipes home page
Return to top of healthy vegetable curry recipe