Homemade Healthy Lasagna Recipe
Cheap Dinner Recipes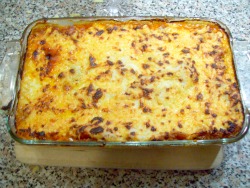 Cheap Healthy Lasagna Recipe, sharing my free healthy family recipes with you. No need for fancy ingredients just real natural healthy food.
This lasagna recipe is made with lean mince beef, fresh onion, tomatoes, homemade lasagna sauce, also known as a bechamel sauce recipe.
If you are looking for a chicken lasagna recipe, all you need to do is use minced chicken instead.
You can also make this healthy lasagna recipe with mince pork or turkey. It will still taste great. That's the most important thing! Right?
I've been making this easy healthy cheap dinner recipe for my family for years. A cheap easy meal which is very filling. And the good news…
You can freeze leftover lasagna
Size of Dish for Cooking
You will need a large casserole dish approximately 12x8 inches or 11x11 inches.

Ingredient Tips
Mince Beef
Lean mince beef is more expensive but to goes much further. Cheap mince has more fat and grissle added to bulk out the weight . When you cook it… you end up with lots of liquid fat and less meat.
Lasagna Pasta Sheets
Lasagna Verdi sheets are much healthier for you because it is made with spinach, don't worry… it doesn't taste like spinach but it is green.
Garlic
Fresh garlic is great, but if you don't use it regularly it does go off. Garlic powder which comes in a glass bottle lasts a long time. In the long run it works out much cheaper than fresh.
Lets get started making this healthy lasagna

How to make healthy lasagna recipe
Serves at least 6 people
Ingredients
1 pound of lean mince beef
1-2 tbsp olive oil
1 medium onion chopped finely
1 level tsp garlic powder or 2-3 cloves garlic crushed
Sprinkle of dried oregano - optional
400g tin of chopped tomatoes
1 pack of lasagna verdi (green) pasta sheets
4 ozs of low fat strong cheese
Grated parmesan - optional
1 glass of red wine - optional
Sprinkle of salt and pepper
Sauce Ingredients
1 1/2 ozs of butter approximately 2 tbsp flour 1/2 - 3/4 pint of half fat milk

Make the meat mixture first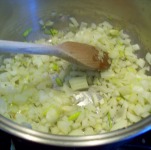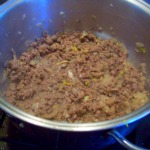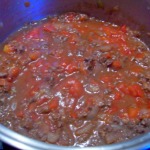 Warm the olive oil in a large pot over a low heat.
Meanwhile, chop the onion finely.
Add to the pot and stir to coat with the oil
Cover and simmer for 5 minutes to let the onion sweat and soften.
Sprinkle the garlic powder or crushed garlic in to the onions.
Stir to mix.
Simmer for a few minutes with the lid on.
Add the mince to the pot and stir well.
Cook on a low heat, breaking the mince up as you go.
Always cover with the lid after stirring, it keeps all the flavors in the pot.
When the mince is browned and broken into small pieces add the red wine or a little warm water. Stir
If using wine, turn up the heat, bring the pot to a boil, this kills the alcohol, leaving just the flavour. The kids won't get drunk!!
Simmer for a few minutes
Add the chopped tomatoes and a sprinkle of dried oregano.
Stir well, cover and simmer for 15 minutes.
Remove the lid and let the liquid reduce a little
You can add a little tomato paste to thicken the liquid.
You should now have a thick Bolognese type meat sauce.
Add a little salt and pepper.
Turn off the heat and pop the lid on while you make the white lasagna sauce. It's really easy…

Making the sauce for your healthy lasagna recipe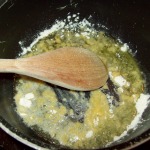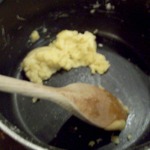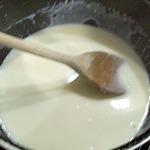 Melt the butter slowly in a medium size pot
Gradually add a little flour.at a time, stir all the time
When the mixture turns to a paste, very gradually add milk, keep stirring or the sauce will become lumpy.
The sauce will gradually thicken. Aim for a medium thick sauce.
At this point you can sprinkle in some grated parmesan cheese, to give the sauce extra flavour.
When your happy with the thickness and flavour. Turn of the heat. While you build the lasagna.

Building the Healthy lasagna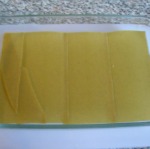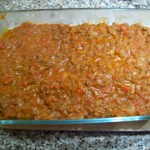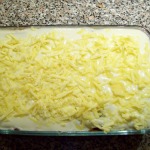 Use a square or rectangle casserole dish
Cover the bottom of the dish with lasagna sheets, overlapping just a little.
Spread half the meat mixture over the pasta sheets
Add another layer of pasta sheets and spread the rest of the meat over.
Top with another layer of pasta sheets.
Stir the white sauce and pour across the top of the lasagna.
Spread the sauce out to cover all the pasta sheets.
Sprinkle the cheese over the top.
Place in a pre heated oven and cook until the top turns golden brown.
I really hope you enjoy my homemade healthy lasagna recipe.

Here are a few side dish suggestions for you...

Serving suggestion

Crispy oven baked potato wedges

Crisp jacket potatoes

Fresh homemade ratatouille



Top of Healthy Lasagna Recipe

Return to Free Healthy Recipes Home Page