Homemade
Mediterranean Eggs Recipe
Mediterranean Eggs - Yummy Healthy Egg Recipes!
Try this Healthy Mushroom and Courgettes with Egg Recipe. A healthy appetizer served during a Greek Cypriot Meze.
I make this really simple recipe for my family on a regular basis, it's such a healthy quick recipe that is very tasty too.
This greek recipe was one of our all time favourite's when we visited Cyprus. We live here now.
Made with mushrooms, courgettes or zucchini and eggs of course!
Nothing beats the taste of free range eggs. So if you can get your hands on them, use them for this Mediterranean egg recipe.
Making Mediterranean Eggs...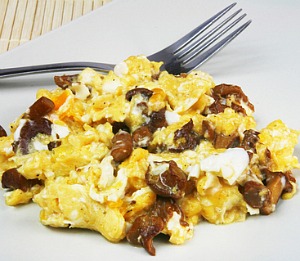 Quick Ingredient Tips...
Eggs
Nothing beats free range eggs. So if you can get your hands on them, use them for this recipe, they have so much more flavour..
Vegetables
Courgetts – Zucchini
Greek courgettes have pale green skin, very firm with yellow flesh. They taste much better than the dark green skinned one's which have almost no flavor and turn mushy when cooked. They are also great for stuffing as well.
Mushrooms
Wild mushrooms picked from the Cyprus mountains are used to make this egg recipe.
Obviously we can't go picking mountain mushrooms! So…
Experiment with different types of mushrooms. Such as…
Oyster, Chestnut, tPlain White Mushrooms
Ingredients...
Serves 4
6-8 Free Range Eggs
1 small onion finely chopped<.li>
2 courgettes thinly sliced
4-6 mushrooms thinly sliced
4 tbsp olive oil

Preparation...
Heat the olive oil in a large frying pan.
Add the courgettes and mushrooms.
Stir fry until lightly browned
Meanwhile, whip the eggs well until the top is covered with air bubbles. This makes the eggs nice and fluffy when cooked.
Gently pour the eggs into the pan and stir fry, mixing in the vegetables
Continue to stir like your making scrambled eggs.

When the eggs are fully cooked, no runny bits its ready.

Serve on warm plates with crusty rolls as a healthy appetizer.

Others Serving Suggestions

Turn it into a healthy dinner with healthy oven roasted vegetables and oven baked potato wedges

I hope you enjoy this Egg Recipe... Share it with your friends






You may also like to try these healthy food recipes...

Homemade Healthy Omelette

Healthy Burgers Recipe

Top of Mediterranean Eggs

Return to Main Healthy Egg Recipes

Return to Free Healthy Recipes Home Page