Simple Healthy Omelette Recipe
Cheap, Easy, Healthy Omelette Recipes.
Want a Healthy Recipe for any time of day?
There is nothing simpler and filling than a freshly made omelette. This free healthy food recipe will leave you feeling satisfied for longer!
Have it for breakfast, lunch or dinner.
Eggs are a great protein choice if you want a quick and easy healthy meal. Just add your favourite healthy fillings like mushrooms, fresh tomatoes and peppers to name a few.

Tips and steps to make the perfect omelette...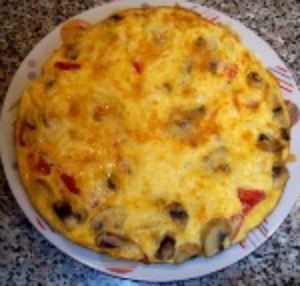 Quick Tips
Use 2 eggs per person. Free range eggs make the best omelette.
Give the eggs a good whipping, to get lots of air and bubbles in to them. This will make it really light and fluffy.
Get creative by adding different types of meats like...
Lean ham, leftover chicken or turkey, sliced low fat sausages.
I love to experiment with vegetables when I make a healthy omelette.
A Few good choices are...
Mushrooms
Fresh tomatoes
Leftover Potatoes sliced
Onions
Peppers
Spinach
Fresh Tomatoes
Courgette - Zucchini
Oven roast vegetables
Avoid heavily processed meats.
If you like cheese, try lower fat versions.
Grate the cheese and sprinkle on top of the omelette before putting it under the grill.
You definetly use much less cheese when its grated.
Ingredients
Serves 2
4 large eggs – preferably free range, they are more expensive, but taste great!
1-2 medium vine tomato chopped
3-4 medium size mushrooms
4 tbsp olive oil

How to prepare...
Chop the tomatoes and mushrooms into small pieces
Slightly warm 2 tbsp of olive oil in a medium pan
Pop the tomatoes and mushrooms into the pan.
Stir fry for 2-3 minutes, until the tomoates soften a little
Crack the eggs into a bowl and whisk thoroughly.
Add 2 more spoonfuls of olive oil to the pan.
Pour the whipped eggs into the pan.
Tilt the pan in a side to side motion to evenly distribute the egg around the pan.
Cook on a low heat until the bottom of the omelette is firm.
Meanwhile, heat your grill.
Now pop the pan under the grill to cook the top.
Note; My grill is inside the oven, so I wrap silver foil around the pan handle to protect it.
After a few minutes the omelette should have puffed up and started to brown a little.

When its evenly cooked, remove from the grill.

Now slide the omelette onto a warm plate and slice in half.

Serve with wholemeal toast for a filling healthy breakfast, a salad for lunch or any vegetables you like for a quick and filling healhy dinner. Enjoy!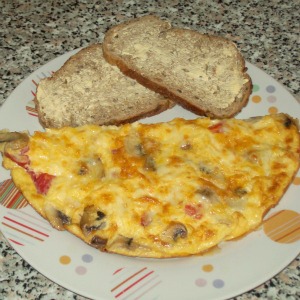 Other visitors also like the following healthy recipes...
Top of Healthy Omelette Recipe
Return to Healthy Egg Recipes
Visit Healthy Recipes Home Page