Easy Enchilada Recipe
Cheap Family Recipes
Homemade easy enchilada recipe, affordable healthy family meals recipes.
A cheap chili recipe wrapped in tortillas, fresh tomato sauce poured over and a little grated cheese. This healthy recipe will serve at least a family of 4.
Enchiladas are really versatile. You can fill tortilla wraps with any meat or vegetables. Make an enchilada meal from leftover chicken, turkey, beef, mince or mixed roasted vegetables. Beautiful!
So why not give it a go.
If you don't fancy a chili filling, try my cheap chicken enchilada recipe.
Or stay awhile and take a look around at other easy healthy cheap recipes on my free family healthy recipes site.
Ingredient Tips....
Meat
I have used mince beef for this easy enchilada recipe but you can use chicken, turkey or lamb.
Chili beans
I always use tinned chili or kidney beans they are a quick and easy. Just be sure to rinse them before using. If you like, use white beans instead.
Tomatoes
You can either use tinned or fresh tomatoes, whichever is cheapest where you are.
Garlic
Garlic powder is a cheaper option than fresh garlic. If you are on a tight budget, a jar of garlic powder lasts a long time and can be used to make many healthy meals.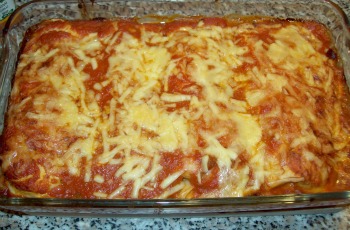 Ingredients...
Serves 4
Ingredients for the healthy chili recipe
2 tbsp olive oil
1 medium onion
3-4 garlic cloves or 1 tsp garlic powder
1 pound of lean mince beef, chicken, turkey or lamb
4-5 medium tomatoes are 1 400gr tin tomatoes
1 400gr tin of chili beans – kidney beans
½-1 tsp chili powder – however hot you like it
pinch of salt and pepper
1 pack of tortilla wraps
3-4ozs of grated cheese - medium strongh is best
Ingredients for Tomato sauce recipe
2 tbsps olive oil
2 medium onions
4 garlic cloves or 1 tsp garlic powder
5-6 fresh tomatoes or 400gr tin of tomatoes
1/4 - 1/2 pint of vegetable stock
a little sugar if the sauce is slightly bitter
pinch of salt and pepper

Preparing enchilada tomato sauce...
Heat the oil in a medium sized pot.

Meanwhile chop the onions finely. Add to the pot and stir to coat.

Cover and simmer on a low heat for 2 minutes.

Crush the garlic cloves and add to the pot, or sprinkle in garlic powder.

Mix, pop the lid on and simmer for 2 minutes.

Now add the tomatoes, stir, cover.

Let the mixture simmer for 15-20 minutes.

Add 1/4 pint of the stock, stir, cover and simmer. Aim for a thickish mixture. Adding too much stock will make the sauce to thin.

While the tomato sauce is maturing, you can start to prepare the healthy chili recipe.
Remember to check the tomato sauce occasionally. When it starts to thicken, leave the lid off to let it reduce to a thick pouring sauce.
Preparing the Chili...
Heat 2 tbsp of olive oil in another pot.

Chop the onion and add to the pot, sitre and pop the lid on.

Cook for 2 minutes

Add crushed garlic or garlic powder, stir, cover and simmer for 2 minutes

Pop the mince into the pot, breaking it up while stirring.

Cover, simmer and occasionally stir, breaking up any lumps of mince.

When the meat has browned, add tomatoes, stir, cover and simmer for 5 minutes.

Add the chili beans also known as kidney beans, mix well.

Pop the lid on and simmer for about 20 minutes.
Remove the lid and let the liquid reduce,. it should only take about 10 minutes.
Taste the chili at this point, add more garlic or chili powder if you feel it needs it.
When you're happy, take the chili off the heat to cool slightly before filling the tortilla wraps.
Preheat the oven to 175c

Now for the fun part!!
Wrapping up the easy enchilada recipe...
Unwrap the tortillas, separate and place on a large plate.

Microwave for 30 seconds to warm them up a little.

Place one tortilla at a time on a chopping board.

Spoon some chili onto the middle.

Fold in the top and bottom of the tortilla

Now fold over the opposite sides quite tightly.

Place each filled tortilla folded side down into a large flat bottom casserole dish, about 12"x12" which should hold 4-8 wraps. Place them tightly together in the dish.

When you can't squeeze anymore wraps into the casserole dish, gradually pour the thick tomato sauce across all the wraps.
Sprinkle a little hard cheese or grated parmesan across the top.
Pop in a pre heated oven. Cook until the sauce is bubbling and the cheese has melted – should take about 20-30 minutes.
Its well worth the wait... your easy enchilada recipe will be delicious.
And trust me… you will not need a large quantity of side dish to help fill your family up!
Other visitors liked these recipes...

Easy Chicken Enchiladas Recipe

Healthy Lasagna Recipe

Top of Easy Enchilada Recipe

Return to Free Healthy Recipes Home Page