Healthy Vegetable Lasagna Recipe
Cheap Healthy Vegetable Lasagna Recipe.
An very easy healthy meal on a budget. Made with fresh or frozen vegetables, simple tasty bechamel sauce and healthy pasta. My family love this one. Easily Serves 6-8 people. Its also a fun recipe for students to make.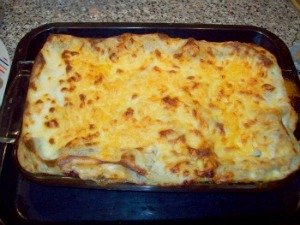 Ingredient Tips
Vegetables
You can use fresh or frozen veg for this healthy vegetable lasagna. Frozen vegetables are just as healthy, if not more because the freezing process is much better these days which keeps the freshen in. They are also much cheaper to buy than most fresh vegetables and can go much further too.

Pasta sheets for lasagna
Healthy pasta sheet choices. Whole wheat pasta is much healthier and white and it doesn't taste any different. Trust me... I've tried it on my family. They never noticed!
Verdi pasta sheets are made from spinach, which are also healthier for you. It has a mild flavor. Kids won't notice the different.
My preference is verdi for making lasagna.

Garlic powder versus garlic cloves
Garlic powder is cheap to buy and lasts a long time. Fresh garlic has a short life and can be more expensive if your cooking on a budget.
Either type is fine for this healthy vegetable lasagna.

Lasagna Sauce - bechamel sauce recipe
I tend to make lasagna sauce, also known as a bechamel sauce recipe with 1½ - 2 ozs of butter. That amount of butter is not enough to worry about healthy wise, considering the recipe serves 6-8 people.
You can use a vegetable spread if you prefer.

Cheap white sauce
You can also make a quick white sauce using low fat milk and corn flour. I have included how to make a cheap white sauce below.
Healthy Vegetable Lasagna Recipe
Ingredients
Serves 6-8
1 pound of frozen vegetables of your choice or…
1 medium onions
2 courgettes
4 medium tomatoes of 400gr tin
2 fresh red peppers or half a jar roasted red peppers
2 handfuls of chopped spinach
3-4 garlic cloves crushed or 1 tsp garlic powder
1/2 pint of vegetable stock or warm water
1 or 2 tbsps of tomato paste
whole wheat or spinach lasagna pasta sheets
Cheese Topping
2-3 ozs of grated low fat hard or vegetarian cheese for topping

How to Prepare...
Firstly, make the fresh Vegetable filling

Warm the oil in a large pot.

Finely chop the onion, add to the oil. Mix to coat with oil.

Cover and cook on a low heat until soft and transparent.

Crush the garlic into the pot. Mix well.

Cover and simmer for a few minutes.

Add the chopped courgettes and peppers, stir in well.

Cover and simmer on a low heat for 10 minutes.

Stir occasionally to make sure they don't stick.

Now add the chopped tomatoes, mix, cover and cook for a further 10 minutes.
Add ¼ pint of vegetable stock or warm water if the mixture is to dry and the courgettes are still too crunchy.
Cover and simmer for 5 minutes.
Check the vegetables are all cooked through.
Add 1 or 2 tblsps of tomato paste to thicken the sauce a little.
Simmer for a few more minutes to reduce the liquid if its still too thin.
Add a little salt and pepper, mix, cover and remove from the heat.
Bechamel sauce recipe
Making the bechamel sauce

1 ½ - 2ozs unsalted butter or vegetable spread
1-2 ozs white flour
3/4 - 1 pint of milk - approximately
parmesan - optional
pinch of salt and pepper

Melt 1 ½ - 2 ozs of butter or vegetable spread in a medium pot.

Sprinkle small amounts of flour into the pot while continually stirring.

When the mixture comes to together like a piece of dough gradually add small amounts of milk, stirring all the time.

The mixture should gradually become shiny, thick and creamy. Aim for a medium thick sauce for pouring.

If you wish, sprinkle in a little parmesan or vegetarian cheese into the sauce for extra flavor, still stirring.
Cheap white sauce recipe
1 pint of low fat milk
2-3 tsps of corn flour
Pinch of salt and pepper

Slowly heat the milk in a medium saucepan - do not boil!
Make a small mixture of 2 teaspoons of corn flour mixed with a little cold milk, stir well.
Slowly mix it in with the warm milk, stir continously until the mixture thickens. If the sauce isn't thick enough make a little more corn flour and milk mixture and slowly add and stir until the sauce is medium thick.
Add a pince of sale and pepper and stir.
For extra flavour sprinkle in some grated parmesan cheese, stir well.
That's it!! An easy white sauce recipe
Now its time to put it all together to create your lovely healthy lasagna.
How to build your healthy vegetable lasagna
Place lasagna sheets across the bottom of a casserole dish.

Overlap just a little.

Spread half the vegetable mixture across the lasagna sheets.

Add another layer of pasta sheets.

Overlapping slightly.

Add the rest of the vegetable mixture and spread evenly.

Add the last layer of pasta sheets.

Mix the bechamel sauce well.

Gradually pour all over the top.

Spread out to the edges.

Sprinkle the grated cheese evenly over the sauce.


Place in a pre heated oven 175c and cook for approximately 1 hour.

When the cheese has melted and is turning golden brown, the lasagna is ready.

Remove from the oven.

Let it cool slightly before cutting.

Serve with... fresh salad and crispy potato wedges
Storing leftover vegetable lasagna
You can store leftovers in the fridge for up to 3 days, no more.

Can you freeze lasagna?

Yes, indeed you can.

What I do is cut leftover lasagna into portion sizes. Place in plastic containers with a tight fitting lid and freeze.

I hope you enjoy this healthy vegetable lasagna as much as I have enjoyed sharing it with you.



Try homemade crispy potato wedges recipe
Return to top of healthy vegetable lasagna
Visit our home page