Banana Smoothie Recipes
Family Healthy Banana Smoothie Recipes.
Homemade in 5 minutes for a healthy breakfast, lunch or snack.
Your children will love these nutrient dense smoothies. They'll never know how healthy they are.
Try My Yummy Healthy Smoothies, So Simple, Quick and Portable.

Smoothies are a super quick alternative.to slaving over a hot stove, especially in the morning. All you need is your favourite fruits or vegetables and a worktop blender!
My family love to have them.
Try some of these banana smoothies.
Tips for a great banana smoothie...
Bananas
Use ripe soft bananas as they tend to be sweeter, creamier and puree better.

Milk
You can use any type of milk such as skimmed or skinny, half or full fat milk. I use Soya, Almond or Hazelnut milk which add a real creamy texture and taste.
Alternative to Milk
A great alternative to milk is unsweetened apple juice. Its very healthy and adds extra flavour.
Creamy Banana and Ymmy Honey Smoothie
Ingredients
Serves 4
2 Medium Bananas
1 tsp of honey per person
1 pint of half fat milk or soya milk
2 tbsp low fat Greek Yoghurt - optional
Preparation
Peel the bananas, slice into 3-4 smallish pieces.
Drop them into the blender.
Add a tsp of honey per serving into the blender.
Add a little more honey if you wish.
Pour in the Milk.
Pop the lid on and Puree for about 15-20 seconds, making sure the bananas are completely pureed and the smoothie is thick and creamy.
Pour and Enjoy!
Sweet Strawberry and Banana Smoothie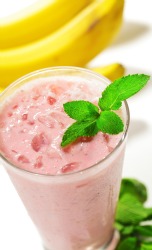 Tips and Facts
Strawberry Facts – contain vitamin C & K, fibre, protein, vitamin B1 & B6, iodine, a high level of antioxidants, folic acid and have anti cancer properties. Wow!

If you can't get fresh strawberries, tinned are fine. As long as they are in their own unsweetened juice.
Ingredients
Serves 4
1 medium punnet strawberries or tinned in fruit juice
2 medium bananas
1 pint half fat milk, soya or fruit juice
2 tbsp greek yoghurt

Preparation
Wash the fresh strawberries and remove stems. If you're using tinned strawberries, pop them into the blender with the juice.

Peel bananas, cut into small chunks. Add to the blender.

At this point, you can either blend now or…

Add Milk.

Pop the lid on and Puree for about 15-20 seconds, check the bananas are thoroughly pureed.

Pour and Enjoy!




I hope you enjoy these healthy banana smoothie recipes. They are so quick and easy to make for a speedy breakfast in a glass. Experiment with other fruits, some oats, pumpkin or sunflower seeds for even more health benefits.

Previous visitors also like these...

Healthy Quick Lunch Recipes

Healthy Foods List

Top of Banana Smoothie Recipes

Return to Healthy Breakfast Recipes

Free Family Healthy Recipes Home Page