Lentil Soup Recipes
Homemade Irish Lentil Soup Recipes. When I make this soup it always reminds me of when I was young. My mum would always make it during the winter. Everytime we had boiled gammon for dinner she would use the stock the ham was cooked in and leftover gammon to make it. Now I make it for my family.
Try this Lentil and Ham Soup it is very tasty and filling.
Made with split red lentils, carrots and gammon hHam. An easy and quick Healthy soup. Turn your leftovers into a heart warming Broth.

How to make healthy lentil soup...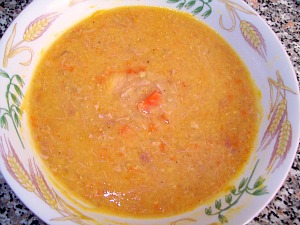 Quick Tips
Lentils
Use red split lentils that just need to be rinsed or only soaked for 30 mintues. There's nothing worse when you famcy making soup with lentils or other pulses and find that they need to be soaked overnight.
Gammon Ham

I tend to make lentil and ham soup when we have gammon leftover from our previous day's dinner just like my mum did.

Making a healthy winter warm soup is a great way to use up the any leftover meat.

If you don't have leftovers, buy a couple of fresh gammon slices, one's that are not highly processed.

My mum use to say, if meat doesn't look like it's come straight from an animal… don't buy it!
Ingredients for Lentil and ham soup recipe...
Serves 4
Ingredients
8-10ozs split red lentils
1 large onion finely chopped<.li>
2 grated carrots
leftover gammon ham or grilled slices chopped – fat removed
1 - 1 1/2 litres chicken stock

Preparation
Heat the olive oil in a large pot and add the finely chopped onion.
Cook for a few minutes until softened and transparent.
Add the chopped carrot, stir and cook for a few minutes to sweat them a little
Pour in the stock. Partly cover and simmer until the carrots have softened slightly.
Add the lentils, stir and cover.
Simmer until the lentils are soft and have swollen.
Add the chopped gammon and stir it through the soup.
.
Simmer on a low heat for 10-15 minutes to let the flavours combine
Turn off the heat and let the soup cool slightly.

Partly liquidize with a hand blender or luiquidize in batches using a worktop blender.

My family like their lentil and ham soup partly chunky.

Serve with crusty wholemeal french stick.

I really hope you enjoy this lentil soup recipe







Other visitors also liked...

Tomato Soup - Heart Healthy Recipe


Back to Healthy Soup Recipes

Go to Free Healthy Recipes Home Page