Healthy Poached Eggs Recipe
Simple Poached Eggs Recipe..
Quick, Easy, Healthy Method of Cooking Eggs. Simply Serve on warm wholemeal toast and a side serving of sautéed tomatoes, a really healthy family recipe.
Start Your Family's Day the Right Way!
Let me show you how to make this poached eggs recipe, one step at a time.
Eggs are very good for you. They have high protein content which will keep you and your family filled up until lunch.
Kick start your metabolism with healthy poached eggs.
How to make poached eggs...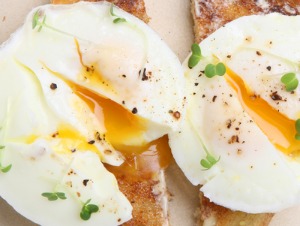 Quick Tips
Poaching Equipment
Use a frying pan for poaching, its much easier to manouver the eggs than a deep pot. Only use an inch or two of boiled water. I personally prefer this way of poaching.
To help contain the eggs you can place a circular metal ring or baking cutter into the hot water and crack the egg into it. Or…
You can buy an Egg Poaching Pan. Shaped like a shallow frying pan with circular plastic mould and removable cups.
All you need to do is add water to the pan. bring it to a boil, lower the heat and crack eggs into the plastic moulded cups. Pop the lid on and cook for about 5 minutes..
The eggs are steam cooked rather than poached.
They can turn out a bit rubbery for my liking, but great for new cooks or if you find poaching in water a bit messy.
Eggs
The best eggs to use for poaching are, fresh and ideally free range. The egg white of fresh eggs hold together better. Older egg white turn very watery and spread away from the yolk.
Top Tip This is a good way of finding out if an egg is fresh or not.
Tomatoes



They are deliciously sweet.

Quick to cook and go together really well with any egg recipes.

Alternatively, you can use larger Italian plum tomatoes or ripe seasonal local tomatoes.

Just cut them into bite size pieces before cooking.

Ohhhhh. they are so sweet, I can almost taste them right now!

You can also use tinned tomatoes.

Just check they are canned in tomato juice with no additives




Ingredients
Poached Eggs Recipe with Plum Tomatoes
Serves 4
1-2 medium fresh eggs per person
20-24 baby plum tomatoes or alternative
2 tbsp olive oil
2 inches of boiling water in a pan for poaching
Preparation
Wash and dry the tomatoes, remove stalks.
Heat the olive oil in a frying pan.
Add the tomatoes and cook on a low heat, turning occasionally.
Meanwhile, boil approximately 1-2 inches of water, depending on pan size or you can use a poaching pan like the one here, which makes perfectly formed round poached eggs.
Lower the heat and crack an egg over the pan. Slowly pour the egg into the hot water.
Let each egg cook for a few seconds before adding the next one. This lets the previous egg firm.
If you put all the eggs in to soon, you may end up with one big egg white covering the pan.
Let the eggs poach for a few minutes before moving or turning.
What you want is a firm white out layer and the egg yolk slightly firm on top with a light white film over the yolk. That's if you like a soft yolk!
Your poached eggs should take about 5 minutes to cook thoroughly.
It's not a good idea to eat eggs which have raw white around the yolk. Think Salmonella food poisoning.
If you plan on having poached eggs on toast, now is the time to make it.
When the eggs are firm, carefully remove them one at a time from the pan.
Place on a warm plate or hot toast.
Remove the tomatoes from the pan with a slotted spoon and serve with your eggs.
Bon Appétit
I hope you enjoy this simple poached eggs recipe. It will help kept you healthy and fuller for longer.
Make healthy meal choices for all the family.